Shutters View is a gorgeous expounding of evocation and melancholy Based in San Francisco, Soft Pastels is a solo project taking inspiration from new wave, cold wave, and dream pop. Shutters View is his first full-length album in just over five years, following the release of his 2017 album No Loss. Flawlessly mixed by Matt Messore (Cathedral Bells, Midi Memory), Shutters View is a gorgeous expounding of evocation and melancholy, continuously oscillating between the act of hearkening back to new/cold wave pasts as well as beckoning towards modern dream pop futures. Opener "They Run" and closer "Knock on the Door" are...
---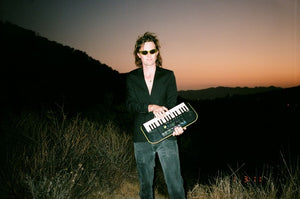 Girlpool Drummer Releases Solo Indie Rock Album Total Heat is the lo-fi pop project of LA-based artist Ross Wallace Chait. With over fifteen years of experience as a drummer and formally trained in jazz, before beginning this solo project he toured/collaborated with artists like Girlpool; in that time, he was slowly building up a persona. In his bio on Bandcamp, there's a few reminders for his listeners: "Total Heat is a ceremony / Total Heat is a light / Total Heat is for the spirits / Total Heat's alright." In regards to Totally Real, Total Heat's debut album, it's the...
---
CASTLEBEAT Releases 11-Track Indie Dream Pop Album 'Half Life' CASTLEBEAT is the goth pop project of CA-based artist Josh Hwang. His third album Melodrama released back in 2020 was a divergence from his previously guitar-based approach in VHS as well as his self-titled debut, instead offering another facet of his nostalgia-heavy aesthetic wherein all was balanced delicately around the sounds of dream pop, hip hop, jangle pop, and everything in between. With CASTLEBEAT, there is a thoughtful emphasis on keeping that comforting warmth that comes with lo-fi production, and his fourth album Half Life, released in July 2022, is another example of this; written, recorded, and...
---
Manchester-based Dream Pop Duo's Debut Album 'Flora' atmos bloom is the pop project of Manchester, UK-based artists Curtis Paterson and Tilda Gratton. The project began as a way to escape a world in lockdown, but later became something special. Working thoughtfully in the lush, delicate margin between shoegaze and dream pop, the duo take influence from 90's icons like My Bloody Valentine and Cocteau Twins, as well as modern day indie greats such as DIIV and Beach Fossils. These influences definitely come through in their sound, but more so it is clear that Paterson and Gratton operate inside a unique...
---
Chicago-based COOL HEAT Releases Atmospheric Dream Pop EP COOL HEAT is the solo project of Chicago-based musician and photographer Eden Sierotnik. His stunning self-titled debut EP released in October 2020 introduced his haunting, gorgeously cinematic take on lo-fi dream pop and shoegaze, with tracks like "Reflection" and "Rose" proving his remarkable ability to make his melodies feel nearly four-dimensional. His music is influenced in part by his photography (which he often uses as album artwork), both attempting to capture a liminal, yet vivid moment in time. The synth melodies on Levitate often evoke the feeling of being suddenly pushed into...